Please ignore this! I'm just posting this to ensure the download is still available whilst I do my minor revamp.
CFE Gizmo Norns
This genome comes in two versions. First, is the CFE Gizmo version. This version includes all of the CFE edits and Gizmo instinct and biochemical edits. This version, however, does not include the changes to the reproductive system and lifespan that come with the Gizmo version.
The CFE Gizmo Full version does, however, come with the reproductive and lifespan edits in the Gizmo version and should only live about 5 hours.
Both versions include a gene that I add that causes Inhibin to reduce Testosterone. This is what the chemical was intended for but was never used.
CFE Gizmo Full
Bengal Bruin Civet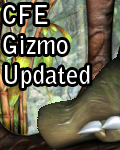 CFE Gizmo Norns – Updated
Vampess's Creatures Full of Edits update meets Darcy's Gizmo update!
I am in no way responsible for the development of either of these sets of updates – all I've done was combine them together.
Unlike my previous release, this one comes in only one flavor – CFE with all of the Gizmo changes. Mutations can still occur to the life genes in this version but the chances are greatly reduced.
Astro – Bengal – Bruin – Chichi – Civet – Fallow – Harlequin – Zebra