It's been an absolute nightmare dealing with realty BUT I still have Creatures to look forward to at the end of the day. That said, Haven asked me to take a look at her breed to make sure it works and to share my findings. I've already asked her if I could post them to my blog so here goes!
I'm using the latest version that was sent to me (Titled New) and I get an error when I click on the Mime Norns in Advanced Muco.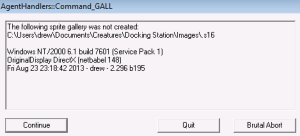 I clicked Continue and got myself a male and female egg. Out popped these two. Immediately, I took them to the Holistic Learning Machine to teach them words and so far, they don't seem very different from other norns. They express when they need things, eat and play when they feel the need to and even seem to rest on their own. So far, the only real difference is that they look scared or surprised when they're happy.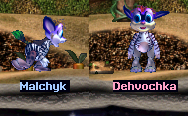 Once they seemed tended to, I put the two together in the bottom level of the Meso. They seemed easily crowded and unless they were approaching the same thing, they seemed to want to avoid each other. Then, I asked them to express and they were off chattering, like all norns would be. With a Haunter toy and lots of food they were very easy to care for.
Other than the issue with the missing Glyph file, the file seems to work.