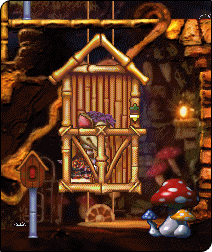 Evelyn, feeling hungry, decided to scare me by saying "Food" and then taking a trip down to the DeathCap mushroom. It prompted me to download just a few things.
First, was Tickets for The Hand, which allowed me to quickly travel from one area to the next to set favorite places. Should a norn be hungry and in a place where there is only a dangerous weed, I would be able to quickly swoop to a different place to collect food.
Finally were Muppetboy's carrots – Hunny Carrots, Muddy Swamp Carrots, Darkling Cave Carrots, Parsnips. Unless I'm mistaken, the four downloads available on Creatures Caves should actually have the "pet norn" or "starch glitch" errors fixed. I don't have the means to check this yet, so I haven't installed them in the world.
As I tried to get things in place, I noticed Evelyn took the elevator back down and was reaching for the DeathCap again. I managed to scoop her up in the lift just in time.

She seemed to get the hint and started grazing on some herbs instead. What a relief!
With her deathcap drama out of the way, it was time for me to check on Trevor. Because the both of them were napping, I left to check on other things and when I returned, the two of them were kissing and tickling in the house. What a relief, and what a nice surprise for me. After their tickling, they bounced a ball back and forth in the garden. It was very cute! Still, Trevor got his fill of social interaction and started marching towards the garden, where he munched on herbs. I guess he wasn't very big on spending time with other Norns, at least not yet.