Wow! I fell behind this week. I guess a case of the common cold will do that, huh? Beside that, I've also had some personal projects that I've been working on and my YouTube channel has definitely been keeping me busy.
I'm back today to catch up with my Creatures 1 world, though! Better late than never, right?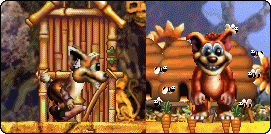 David had recovered from his experience with that terrible disease but I was still worried for him. Really, I should have worried about Tabby whose health was a little worse off. You coudln't tell from her smile, but her health sat around 50%. She wasn't difficult come feeding time, which made me wonder why her health was so low in the first place. For the first time in a long time, I decided to do some genetic investigating.
Unfortunately, nothing in her genetics jumped out at me. I decided to see if carrots would be better food. When she did eat, she only had some honey. A carrot seemed to do the trick, though it also seemed she digested it more slowly. It was hard for me to describe and my incomplete understanding of norn biochemistry didn't do me any favors.

As I considered what to do next, I found Perry and Grub tickling each other and smiling in the well. I always knew that Norns and Grendels could become friends, but it was still refreshing to see when it happened.
I always play with "Grendel – Friendly" on because it allows Grendels the ability to interact with norns on their own terms instead of all interactions defaulting to a slap, as was originally intended and programmed into the game. Grub was even there to congratulate Perry and Mallory on their new egg. The boys seemed to greatly enjoy each other's company and I hoped they'd be close friends for a long while.