When I loaded up Creatures 2 for the day, I decided to make this run more wolfling in nature. I found the Creatures too stubborn or unintelligent and it was a terrible strain on my patience. That said, this group stuck together so it made monitoring them very simple.

Unfortunately, they didn't always do a great job tending their needs and often looked unhappy.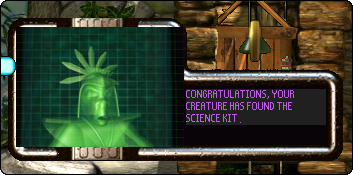 Eventually, Dodger took the lift up to the first powerup and I coaxed him into pressing it. For a while, he only tried to "get" and "run" from it, but things eventually worked out. For a little while, anyway.

Eventually, and seemingly out of the blue, Ernest died at 1 hour, 11 minutes. Though I'd found the science kit, I wasn't actually able to use it to figure out what was wrong with Ernest. Perhaps a glitch? The game wasn't running smoothly for me anyway, so I used the game state controller to fix things. Unfortunately, the trick didn't work and Ernest floated up into the sky. I still had no idea what happened to him.
I guess it might be time to reboot my PC and then try a new world.