Malachite became pregnant but, unfortunately, the poor baby was a still birth.
With the rapid string of pregnancies the last two times, I got to thinking I should slow down pregnancies a bit. As Malachite became pregnant again, I dove into research.

What an unfortunate name. In any case, I've moved her to the Norn Terrarium to be with her parents. While they frolicked (And the Chameleon ettins mercilessly pummeled each other) I edited some Chameleon ettins. I nearly missed the good news. Another Dragonfly Demon Ettin!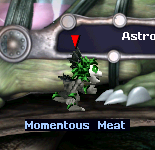 Momentous Meat is our first boy in a while, I think. That said, I was starting to get a little tired of coming back to check on new babies. The DFD ettins were far and away better than the vanilla CFE Chameleon ettins but they still breed way too often.
Eventually, I gave up and decided to start with my work in progress instead.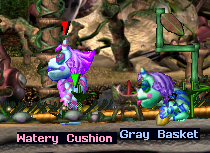 Here are my first two ettins. Gray Basket is a vanilla colored male and Watery Cushion is a female "Pink and White" variety. Unlike the "Color Chameleon" variety of the original genome, these guys are supposed to keep their birth color for their entire lives.
These are the next two. I'm not especially worried about them passing the IQ test since I've gotten pretty used to this genome making it in my tests so here's hoping things go smoothly. I realize I don't -always- test for my nurture worlds but this is as much a test bed as it is a nurture world.
I taught them their vocabulary with the Vocabulizer and showered them with food, including Dream Eaters and Tribbles. An edible critter dispenser would be lovely but I don't have one in my game, sadly.

Thankfully, the game was pretty quiet. Instead of the constant mating and death that I had with the other Ettins, I had relatively little complaining, more eating and much, much less slapping. I had a while to wait before any of them were old enough to breed as well. They did spend quite a lot of time pushing toys, though. Every few seconds I would hear the Nornchi dolls or Robot toys being played with.
The abundance of food and availability of the toys didn't do much to encourage travel but at least the little ettins were happy. I am sad to report that a few of them didn't like each other. Vast Distribution and Hapless Parent are happy to share their dislike of each other but I've seen creatures change their minds about each other in the past. Hopefully this would be one of those cases.
Eventually, everyone spread out in the meso. Vast Distribution favored the top level, Hapless parent the middle, and Gray Basket and Water Cushion stuck to different halves of the bottom level. I did notice that they liked to rest – a lot. It wasn't uncommon to have all four of them sleeping at the same time.

Just as they'd spread out, they managed to find their way to each other again. It could be because they'd all reached the Youth stage, though. They weren't ready to breed yet – they'd have to wait til Adulthood – but they still had the instincts. Gray Basket was the first to reach adult hood, followed by Watery Cushion. I paired them together and immediately, they produced twins. I had only just set Gray Basket down when the notifications popped up. Anxious to see the babes, I decided to wait to see them before I went to bed. Naturally, this was just after I made the longer pregnancy edits. This pregnancy was going to be a long 8 minutes.
While I waited, Vast Distribution and Hapless Parent also decided to have an egg.
A suspenseful 8 minutes later, these two emerged.

First came the girl.

Then came the boy.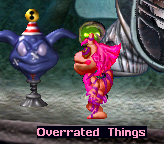 And finally, the other couple's baby. For your convenience and mine, I went ahead and grabbed their parents pictures for comparison.
I know it's harder to tell in parents with similar colors, but I think they blended alright, just like colortrue creatures are supposed to.
I'll have to do more testing and this group will probably be deleted. I've found a lot of issues in this short session that I'd like to address soon. I hate to say it but I think the ettin nurture world project will have to be set aside for now but another project has definitely arisen as a result of giving this type of world a try.