I'd always wondered how Colortrue edits were made but I only decided to take a look today. After opening up Gene Compare I realized that colortrue edits work exactly as advertised. ylukyun himself says that "They have pigment genes moved around, making their colors mix instead of being inherited" so I took the idea and applied it to the Chameleon Ettins, driven to the decision by my Ettin world and its first natural offpsring Rhonda.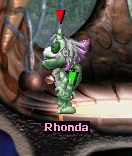 Hi Rhonda. Don't worry. I'll have more about that world soon.
Anyway, I went a bit nuts and put together 13 different colors for the Colortrue Ettins but I'm not quite ready to make them available for download. I stuck two of each color in the meso, excited to see what new color combinations would crop up from the offspring but, tragically, I found some issues with the ettins that I wanted to fix before making this version of the genome available.
For starters, look at this mess. There are 28 creatures concentrated on this one spot.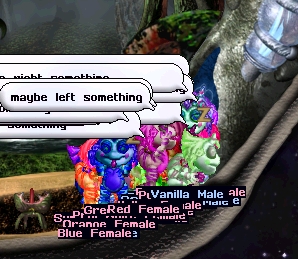 28. I don't think they're even concerned about whether they're eating or not. So first things first, I want to make them experience crowdedness.
Next, I want to address the boredom issue. It's driving me a little insane listening to them complain of boredom when they have toys, gadgets and machines readily available to them.
I'd like to apply Amaikokonut's sleep fix and try to address the lactate issue. I fixed the issue in my Eternal Norn breed but failed to take good, clear notes. My bad.
Finally, I'd like to make some edits to the instincts. Weakening some, strengthening others… I'll probably experiment a lot with these to see what works best.
For now, though, here's a preview of all the colors I put together today. My hope is that the variety keeps me motivated to make edits to the breed.