Hey! Remember how I said I was taking a break from Creatures? Well, that's true, but I was serious when I said I wanted to get articles and updates out about other sim games, like one of my favorites, Aquazone. Don't expect regular updates about this game, however as I intend to play this game at the "realistic" pace that was intended for it. I'll be doing some FisherMan wizardry at the very start, but after that, it's all about doing things the slow, steady way.
By the way, for anyone curious where I learned most of my Aquazone knowledge, check out these sites. They've all been invaluable in helping me grasp a lot of the care and genetics behind these fish.
Don's Attic
AZ Genetics
Effenwright's Aquazone ArtifactsCaryn's Aquazone Ocean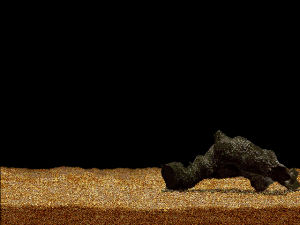 To start off, I have a goal in mind. I'm going to breed discus. I don't know how many fish I'll be keeping in this tank to breed my discus in, but I need to set up and cycle my tank before I can do anything else anyway.
The (mostly) empty tank you see on the left is my tank. It has some gravel and the "Bogwood" accessory added to it. I'll be adding plants in a bit, before I can do that, I need to adjust the volume of the tank. After closing the tank and opening it up with FisherMan, I adjusted the tank's volume from a lousy 12 liters up to an impressive 200. For those of you less metrically-minded, that's just a little less than 53 gallons. That's not as big as you think when you consider that many aquarium hobbyists have a 55 gallon tank at home, myself included.
Once that's done, I open the tank again and set the simulation time to 100x the regular speed. Supposedly, this helps cycle the tank. Normally, I skip this step, but since I had other things to do and had to kill a few hours anyway, I decided to try this to see if it made a difference. I doubt it will.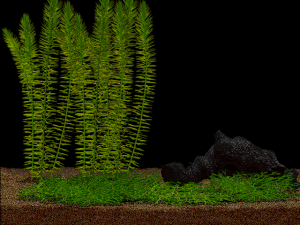 Once that was all taken care of, I added my plants. In general, I like to have a few taller plants to "break line of sight" for aggressive fish and I like to have low plants to give fish someplace to spawn.
The light I had set up automatically shut off but I still wanted to get my fish in the water before I closed this entry. Naturally, I decided to choose some discus. Rather than set any particular goal, I wanted to breed two discus together and see what strain I could develop from them. Let's meet our fish.
I took two discus from the original files. The female is black with a blue halo and the male almost looks more like a butterfly fish with his yellow body. I'm excited to see what kinds of babies I can get here! I was tempted to try adding a "white based" fish because I'd spliced some together earlier today, but playing with some of the original fish seemed more fitting to me for some reason. It'll take a lot of time, especially since I aged them down to their juvenile state, but let's see what we can make!