I realized that, at least when it came to introducing new blood, Creatures 3 and Docking Station's norn genes allow for a small window of opportunity. In Creatures 1, I can spread egg hatching out to one egg per hour without running the risk of missing out on breeding each norn with each other norn. Even the elderly females can still breed well. In this game, however, I have creatures that are Old before they've reached 4 hours of age – and being Old is quite a hit to their fertility.
All that considered, I'm planning on exporting Priscilla to speed things along once the other norns reach the Ancient stage and start passing away. However, that isn't happening yet.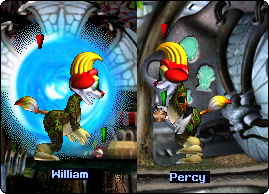 William and Percy both seemed youthful as ever. If I was lucky, they'd both inherited aging genes from a Bondi or something.
Hopefully, Priscilla would get to mate with at least one of them.
Time ticked by while I waited for the inevitable. One of my biggest gripes with Creatures 3 and Docking Station is that there is just so much down time.
Once Priscilla started getting taller, however, I started encouraging her to make friendly with William and Percy. She was still a Youth but once she reached adulthood, she would be a good candidate for motherhood. I kept my fingers crossed.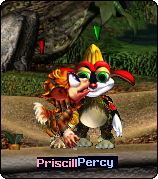 Once she had reached adulthood, she wasn't able to have an egg. I checked both boys and William's Testosterone was always depleted. As for Percy, I don't have a clue what could have been wrong. Both boys' Gonad organs were surviving as well. As for Priscilla, I don't know what could have been preventing her from having an egg, especially amidst so much constant kiss-popping. Total mystery to me.
Soon enough, though, everyone had reached the Old stage and it was time to see Priscilla off. Perhaps she'd appear in one of my private wolfling runs. Oh well.
In another 1 to 3 hours, I would be seeing these norns off to Silicon Heaven.