It was getting to be so easy for me to give up on Creatures 2 worlds. There were just too many problems with the gameplay and built in genetics. And then GimmeCat posted this awesome article on how to pull genetic files from eggs. Great work, GimmeCat!
Now, I was finally able to play with Nova Subterra norns like I'd wanted. Instead of creating a new world to play with and get to know norns, however, I wanted to play around with the genomes, like I often did with Docking Station. Just as with the Kannova, I decided to add instincts to eat other foods and to drink when thirsty. This set of genes missing just seemed very strange to me, especially given the problems with learning that the default genomes had. Then again, looking at the instincts, I also saw that there were 3 instincts to reward eating food and 3 for fruit. One food instinct and one fruit instinct for The Embryo, Adolescent and Adult stages. Uh. What?
Anyway, instead of replacing these, I instead added the new instincts for each of the three life stages used by the food and fruit instincts. To start with, I added the instincts to drink when thirsty. Why was this missing? Then, instincts to push dispensers when hungry. Finally, I added instincts to eat seeds, leaves and roots. Before too long, I had my first test norns.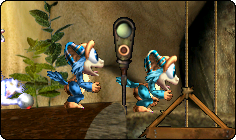 These two are some of the updated norns. I decided on the Bahama norn sprites only because I like them. I added more norns just like them to pad out the population a little and hopefully prevent extinction. Now I only had to wait to see what the eight of them would do.
They spent much of their time wall bonking, unfortunately. After a while, I moved them to the lower level near the swamp, where the carrots and potatoes were growing. I thought at the very least that the abundant food would be good for them. Unfortunately, a few died anyway. Perhaps I should add instincts to eat flowers? It was an idea, anyway. Another idea? I should probably take the time to teach these guys some lessons about life. This test group wasn't doing so well. Eventually, the game crashed anyway.