Chang was the next to go, of old age, thankfully. He died alone in the hallway of the Shee Ark, but I think he preferred it this way. He didn't seem to care for large groups and tended to interact with just a handful of norns.
Soon, everyone became lethargic again and didn't seem interested in traveling to find toys or food. Instead a handful of them just stuck to their new groups and hardly even looked at the doors that lead out of the terrariums.
I did have good news, though. With my new feeding routine, no one was hungry and there were some first pregnancies happening. Fidget had just become a mother and I hoped Aster and Stain would soon become parents as well. The older norns in particular didn't seem driven to move, but they still ate when I brought them goodies.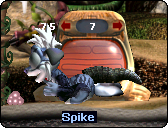 Spike was the next to pass away. Once he did pass away, two eggs hatched. Oops! The Egg Finder crashed. I exported the two babies and set them aside for later. Technically, this put the baby count up to 124 since this issue happened before.
I'll not reveal the parents now, so you'll just have to wait to find out later. 🙂
Naturally, I had to find a way to store the other eggs to prevent any more accidents like these. Of course, a few eggs hatched anyway, but I wa able to export those babies and then store the rest of the eggs in Ultimate Life Norns for laying and hatching later.
With all that settled, I decided it was time for a break.