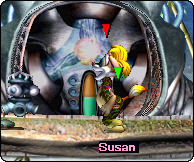 Susan was much too far from the other norns to breed. She had an issue with feeling so crowded all the time so I guess it was just as well. Anna was too busy walking in front of the pulse timer in the tree house. I eventually brought her down with an elevator. Once I said "push norn" there was some brief kissing and a single, fruitless kisspop. Oh well. Try try again, I suppose. Before my eyes, though, Anna, and Geoffrey both became adults. I knew the others would soon follow suit.
I hadn't seen Jane since she gave birth so I popped by and saw that she was still resting where she laid her egg. I gave her some food and encouraged her to play and she was starting to act like herself again. She made her way to the large group in the Norn Terrarium and I said push norn again. This time, Anna was our lucky mother and William the lucky father! I dragged Susan back to the main group and encouraged still more breeding.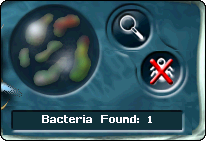 Unfortunately, it seemed Anna wasn't meant to be a mother. She passed away near the Egg Layer in the Norn Terrarium and passed away. When I checked her with the HoverDoc, her drives were all normal but she had a bacteria that ultimately took her life. Luckily, none of the other norns had this bacteria.
With the Treehugger mixes herding this was a comfort, but I had an idea to "vaccinate" the norns by filling them with antibodies. At the very least, it couldn't hurt. Jane, Susan and Percy were the first to get vaccinated against Antigens 0 through 7. I monitored each of them closely and noticed that the injector didn't give any of them pain or woundedness like I was lead to believe by the norny "ouch" sound. Well, better get the other two their shots.
As I gave William his shots, however, I got another pregnancy notification! Jane was pregnant again, with Percy's egg. Geoffrey was the last to get vaccinated.